Cost Of Today's Appliances Could Make A Stove Warranty A Good Value -- Or Not
Just say the words "extended warranty," and most people will groan. Everyone seems to have an unpleasant story about high-pressure sales tactics used by commissioned salespeople or the exorbitant costs of such warranties, while others are unhappily seduced (or scared) into buying a warranty--then never use it. In the latter case, you might as well tear your Grants and Benjamins into tiny pieces and throw them away.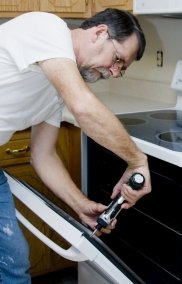 But today's kitchen appliances, including stoves and ovens, are pretty sophisticated. They have multiple cooking modes, digital keypads, electronic ignitors, and other advanced features that are great when they're working--and a nightmare when they're not. As a result, an extended warranty may make more sense than ever these days, except for appliances somewhat closer to the lower end of the price-point spectrum.
Extended Warranties Cover Expensive Repairs
"The average repair cost for stoves is $293, according to The Warranty Group [an electronic and appliance underwriter]," says Geoff Green, president of Chicago-based Extended Warranty Group, an online extended warranty provider. "The average cost of a service call alone is about $100. So in many cases an extended warranty is a good idea, especially if you have an expensive stove, because things do break, and you can be in real trouble if you don't have a warranty."
In fact, a range or oven's selling price tends to be a good "thermometer," so to speak, of whether you should invest your hard-earned cash in an extended warranty. Since a three-year extended warranty usually costs $100 to $150, it probably doesn't make sense to purchase the warranty on a bare-bones $300 stove or oven. But if you're spending big bucks to get a model with more electronic bells-and-whistles, or you're investing in a commercial-grade range or oven, you should seriously consider anteing up for a service policy.
That's the criteria Michigan homeowner Judy Stark applied when she and her husband bought a whole roomful of appliances for her remodeled kitchen. She found it easy to say "No, thanks" when pressured by the appliance salesperson to invest in a fistful of appliance extended warranties--except when it came to her high-end Thermador gas cooktop. "That was the first time we ever bought an extended warranty," Stark says. "Usually we think they're a rip-off. But we had heard that Thermador repair costs can run high, and that prompted the extended warranty purchase."
Repairs on less expensive stoves and ovens can also be pricey. For example, Tom Wehner, manager at Doc's Appliance Service in Utica, Michigan, says the standard service call cost for a Whirlpool product is $69.95. Add in the cost of the repair on, say, the ignitor on a gas stove ($80 to $90), and labor charges of $60 to $80, and you've more than recouped the cost of Whirlpool's extended service plan, which covers service calls, functional parts (e.g., clocks and timers, heating elements, ignitors, thermostats) and labor.
What Can Go Wrong
Even the best products on the market aren't trouble-free. "Modern-day appliances have a lot of electronics that seem to have a high failure rate," Wehner says. "In fact, we've never been busier, and we're seeing many expensive problems these days."
The most common stove failures involve gas ignitors and electric elements, according to Jeff Unterreiner, vice president of strategic business development at Assurant Solutions, which administers and backs service plans for more than 56 million consumers worldwide. He says common repair costs (which are based on normal usage of the appliance), include electronic controls at $285, power supply boards at $225, surface heating units at $199 each, gas ignitors at $168, and thermostats at $238.
It's important to note that service policies never or rarely cover parts that are considered cosmetic, like racks, knobs, panels, and sometimes even oven door glass. Glass cooktops, which can cost $300 or more to replace, are usually covered, although Wehner notes that his technicians look for signs of stress fractures that may be due to negligence rather than functional failure when judging whether the damage should be covered. Damage to electronic circuitry due to lightning strikes, power surges or power brown-outs also are generally covered. Finally, extended warranties often have "no lemon" policies, which allows for the replacement of a range or oven that's still not operating correctly after being serviced three times for exactly the same problem.
Manufacturers' Warranties May Be Enough
But while all of this coverage may sound great, the fact is that many people take a pass when offered an extended warranty. According to Jill Saletta, Whirlpool's director of external communications, only about one-third of Whirlpool customers purchase extended coverage, either through a retail dealer or the appliance company itself.
Gary Drake, founder of Drake Construction in Los Angeles, thinks he knows why. "Most of the time anything that will go wrong happens when you first get an appliance and will be covered by the manufacturer's warranty," says Drake, a "remodeler to the stars" who has done remodeling projects for celebrities like Jim Carrey, Madonna, Rod Stewart and Sting, and has purchased many appliances during his 25 years in business. "In my experience, the better quality product you buy, the less trouble you'll have. So I don't buy warranties for anything I install for my customers, and I discourage them from buying them. Frankly I don't like spending money on something I don't get any use out of."
That's exactly the same reason why Consumer Reports recommends steering clear of extended warranties. According to the magazine, overall, today's appliances are very reliable and usually don't break down during the first few years of service. In fact, the magazine's appliance-repair-history data have shown that the likelihood that your gas range will need to be repaired in the first three years is less than 1 in 5. The probability is even lower for electric ranges. In addition, if your appliance does break down, you might be covered for an extra year beyond the one-year manufacturer's warranty period if you use your American Express and certain types of Visa and MasterCard gold and platinum cards. So it makes good sense to check with your credit card issuer before you sign on the bottom line for an extended warranty.
By the way, if you've ever suspected that the business of selling extended warranties is just a big racket designed to part consumers from their cash, you may be right. In an article in Smart Money, Marlys Harris, finance editor for Consumer Reports, said that the profit margins on extended warranties run 40 to 80 percent, mostly because extended warranty claims are so rare, while Green of Extended Warranty Group adds that 60 to 70 percent of appliance manufacturers' overall revenue are generated from warranty sales. So it's no wonder salespeople lobby so hard to sell you a warranty.
Think Carefully Before Taking That Warranty
Staggering profit margins aside, in the end the decision to purchase an extended warranty basically depends on your tolerance for risk. "Your personal finances and willingness to deal with the hassle of finding a quality repairman or buying a replacement are driving factors [when considering an extended warranty]," Unterreiner says. "If you have the financial resources to self-insure--up to paying for a replacement, if necessary--and are willing to take that risk, then you may not need a service contract. But if a sudden breakdown of a major appliance would put a strain on your budget, purchasing a service contract might make a lot of sense, and provide valuable peace of mind."
Saletta of Whirlpool adds, "You also have peace of mind knowing that a repair, if needed, will be performed by authorized technicians who really know your product, and your investment in quality cooking equipment is protected over time for just pennies a day."
If you do decide to purchase a stove or oven warranty, Dave Faulk, who handles the external warranty servicing at Sargent Appliance & Video in Michigan, says to read the warranty's fine print carefully. "What you're looking for is a bumper-to-bumper warranty with no deductible," he advises. "You also need to check out how long the warranty runs. For example, some five-year extended warranties start at the end of the one-year manufacturer's warranty, so you get a total of five years, while others are added on to the end. It's also a good idea to find out whether the warranty is transferable, in case you move out of state or you sell the appliance to someone else."